What is it like in Fort Lauderdale?
Hugging the Atlantic coast, Fort Lauderdale is located in South Florida where warm weather in March is almost guaranteed.  Plus, it's close vicinity to Miami isn't too shabby for those of you up for an evening in South Beach.
With miles of beautiful beaches, thousands of students from across the U.S., and some of Florida's hottest nightlife, Fort Lauderdale is a Spring Breaker's dream.  In Fort Lauderdale, beachfront hotels come with a college student's price tag making it one of the most popular destinations for Spring Break.  
TopFort Lauderdale Spring Break
See why so many travelers make Ocean Manor Beach Resort Hotel their hotel of choice providing an ideal mix of value, comfort and convenience, a pool and a poolside bar will be ready for you when visiting Fort Lauderdale.
Top Fort Lauderdale Nightlife
Being labeled as the biggest and hottest place to party in South Florida, Fort Lauderdale welcomes those who come for salsa dancing, cocktails, a bite to eat, and weekly live music. The bars offer reasonably priced beverages, including a wide variety of martinis, and various drink specials are available throughout the week. Most nights, DJs provide the entertainment while patrons cut loose on the large dance floor.  Hungry?  You will find several choices of restaurants for all tastes.
TopFort Lauderdale Excursions & Activities
Get to know Greater Fort Lauderdale from an insider's perspective—and avoid decision overload—with a tour or sightseeing cruise of the area. Choose from boat tours on the Intracoastal Waterway and Atlantic Ocean, or tours on wheel and foot where you'll get to know local restaurants and attractions and maybe even learn something about Florida's history and nature. Whether you want to explore on a yacht, Water Taxi, helicopter, paddle board, gondola, or bicycle, there's a tour that's just right for you.
Nightlife
Excursions
Ships & Transfers
Nightlife
Freeport Nightlife
There is plenty to do at night in Freeport. Whether you head to the square or jet over to Senor Frogs, there is entertainment for everyone.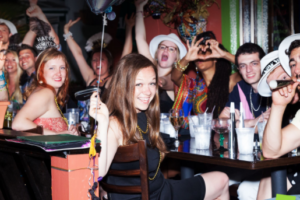 Port Lucaya Square
The place to be at night. There are over 30 bars and restaurants with great drink specials, 2 for 1 beers, $1 shots, $2 shots. Grab a drink, walk around until you are ready for another. Great place to party at night for Spring Break!
Señor Frogs
This bar/restaurant is located right in the port, about a 30-minute cab right from the hotel. This is a popular spot to grab a few drinks while waiting to hop on the ship back to Ft Lauderdale, or get a large group together and hang out with your friends.
Excursions
Ships & Transfers
"Beyond organized, super friendly, and extremely helpful!!"

My friends and I just got back from Freeport for spring break and it all went absolutely perfect, thanks to Go Blue Tours. There were multiple representatives walking around the resort at all times and whenever we had any issues or questions they were there to help/solve the problem. We loved that they were around our age as well because they knew exactly what we wanted. I definitely would recommend booking trips through them, you won't be disappointed. Beyond organized, super friendly, and extremely helpful!!
"Planning my spring break trip was a stress free experience,"

Planning my spring break trip was a stress free experience thanks to my travel agent, Kelsey McKenna. She was was fast to reply, attentive, knowledgable, and answered any and all questions my party of 15 people had. I highly recommend booking with Go Blue tours for a spring break trip you will never forget!
"They have the best rates and are experienced with the spring break scene!"

I love go blue tours!!! I've tried multiple tour companies... but go blue was very helpful from the time I started my booking process to when I got on the shuttle to get home! They have the best rates, are very professional, and experienced with the spring break scene! So I will be booking again with them in the future!!