#1 Spring Break Destination
What is it like in Cancun?
Let's just say Cancun is known as the Spring Break Capital for a reason. Home to MTV Spring Break, there's never a dull moment! From the day parties at the Oasis Cancun to the nightlife at The City and Mandala Beach Club, there's entertainment around every corner in the ultimate paradise with white sand beaches and crystal clear waters. So gather your friends and meet us in Cancun. We're ready, are you?
Top Hotels Cancun Spring Break
Cancun is well-known for hosting the iconic MTV Spring Break, as well as thousands of college students every year. All of our options are beachfront & all-inclusive, so don't wait too long because popular options sell out fast!
Cancun has something for everyone, and this is especially true after dark in downtown. There are dance clubs, bars, parties, festivals, shows, restaurants, DJs, live bands, and more to choose from!
Top Cancun Excursions & Activities
Thanks to Cancun's perfect location, you can swim with dolphins, go to an aquatic park, experience an exciting jungle tour, visit Isla Mujeres, take a romantic cruise on the lagoon, or just bounce between the pools, beaches, and local bars. Take your pick!
Nightlife
Excursions
Flights & Travel
Nightlife
Cancun Nightlife
Cancun has something for everyone, and this is especially true after dark. With numerous nightclubs to choose from, you can't go wrong. It's the ultimate nightlife for your ultimate Spring Break.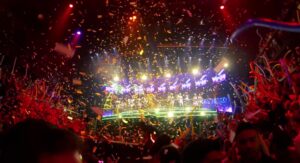 Cancun Party Package
What is a Party Package? Well, it's the pass that gets your entrance to the best concerts and nightlife that Cancun has to offer! The Party Center is home to nonstop entertainment, and a variety of clubs and atmospheres that you can choose from. Grab a Party Pack today and come dance the night away. 
The City
The City hosts the largest parties that happen in the Party Center of Cancun. From Snoop Dogg to Marshmello the entertainment will not disappoint. The City is a tough club to match in terms of live entertainment.
Mandala Beach
Mandala Beach Club is exactly that, a nightclub right on the beach with pools, cabanas, and bikinis. With live entertainment and DJs, Mandala Beach Club sets the scene for the ultimate Spring Break nightlife event.
Dady'O
Built to look like a cave, Dady'O has the most unique atmosphere of all the nightclubs… and if you're lucky, you'll be able to catch The Devil performing here at midnight.
Mandala
Grab a table above, or spend the night on the dance floor, either way Mandala won't disappoint. From Mardi Gras to Ladies Nights, Mandala brings the music, drinks, and dancing into the Party Center.
Senor Frogs
If you've ever been to Mexico, you know Senor Frogs is sure to be a night full of laughs, drinks, and fun. From wet t-shirt contests to foam parties Senor Frogs has all your themed parties covered.
La Vaquita
You won't miss this club with the cow right out front, located in the heart of the Party Center. While just a small venue all open to the street, La Vaquita brings good vibes and great music to the nightlife.
Coco Bongo
Coco Bongo is a club like no other you've been to. With a different show and talent around every corner, you never know what to expect from the performers, or the audience! It's unlike any other nightclub and truly an experience you will never forget.
Excursions
Flights & Travel
" I will be recommending and using Go Blue in the future!"

Go Blue was incredible. Go Blue was so attentive and got us through it all and got us to our shuttle and the airport on time. Really could not have asked for a better experience with Go Blue all the way through. From the moment we booked Erin was so responsive to all of our questions. We felt so safe and taken care of in the shuttles. Thank you so much for everything. I will be recommending and using Go Blue in the future!
"We had the BEST experience with Meghan + all of the Go Blue staff! "

We had the BEST experience with Meghan + all of the Go Blue staff! Everything was super organized, they were helpful and easy to find, and the excursions thru Go Blue were SO FUN. THANK YOU!!
"I had the best Spring Break ever, thanks to Go Blue!!"

I had the best Spring Break ever, thanks to Go Blue!! Everything was amazing; the beer, the people, the food, the weather. Everything was perfect!!!! I partied A LOT every day and night. I would definitely recommend Cancun!
"I can't recommend this spring break company more."

I was planning a trip with 3 of my friends and we all couldn't figure out where to go and I came across go blue tour's Instagram. We were connected to Kelsey and she has helped us plan our trip under our budget! I can't recommend this spring break company more. I've talked to lots of other spring break companies and they were so much more expensive than Go Blue.
The Weather Is Perfect and Planning was a Breeze!

I first off want to say that the sales staff are absolutely amazing to work with. They always answered all my questions, and I had several, and also always responded to my emails very quickly. I felt completely prepared and comfortable about going on this trip because of how prepared they made me for this trip. Next, I want to talk about how amazing the staff on the resort was. Where ever I want there was always someone around I could ask questions to, they were very helpful and always willing to help. Cancun is absolutely beautiful. The water is the prettiest I have seen and the weather is perfect.
"Go Blue Tours was amazing!"

Go Blue Tours was amazing! They made planning a trip so easy and were so helpful with any questions/problems we had. Having onsite staff was a major plus. Such a good experience booking with Go Blue Tours!!!!
"Go Blue was Awesome Yet Again!"

Go Blue was awesome once again! I traveled with you guys two years ago and it was such a great experience then as it was now. I was filming for you guys and I was able to talk to Kara whenever needed which was awesome and Aldo was AMAZING! If we didn't have him we would've been completely lost! Our room on the ground floor was so nice! I also enjoyed the beach access, swim up bar and the Italian restaurant. My favorite part is how close the Krystal was to all of the clubs, and the Mandala Four Loko Beach Party.