Top Hotels Freeport Spring Break
We offer beachfront options, all-inclusive (all food & drinks at the hotel) options, and budget friendly options. Check out our Top Spring Break Hotels for 2022.
What is it like in Freeport?
Freeport, Bahamas is one of the most popular destinations in the Caribbean for Spring Break.  This beautiful island has white sandy beaches, clear waters, and warm weather. There are many amazing islands in the Caribbean, but none can compare to the Bahamas.
Top Freeport Nightlife & Excursions
There is no shortage of things to do in Freeport. The bonfire on the beach is a Spring Breaker favorite every year, and with over 30 bars and restaurants, Port Lucaya Square is is the most popular spot to go at night . Like swimming with the fish? Jump on one of our snorkel tours!
Nightlife
Excursions
Ships & Transfers
Nightlife
Freeport Nightlife
There is plenty to do at night in Freeport. Whether you head to the square or jet over to Senor Frogs, there is entertainment for everyone.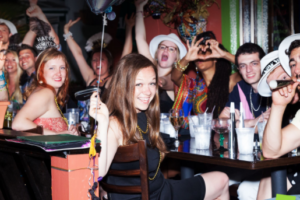 Port Lucaya Square
There are over 30 bars and restaurants that all offer drink specials every night, such as 2 for 1 beers, $1 shots, and $2 shots. Grab a drink, and walk around until you are ready for another. Great place to party at night for Spring Break!
Señor Frogs
This bar/restaurant is located right in the port, about a 30-minute cab ride from the hotel. This is a popular spot to grab a few drinks while waiting to hop on the ship back to Ft Lauderdale, or get a large group together and hang out with your friends.
Excursions
Ships & Transfers
Excellent
4.5
★
★
★
★
☆
Based on 120 reviews from
review us on
Matthew Farkas
★★★★★
Very helpful to get me to my destination
Chris Brocks
★★★★★
Fantastic experience thanks to blue tours! Gracias Ariel and Lupita!
Chloe Lapierre
★★★★★
Lupita was so helpful and friendly with all of our trip planning and coordinated the whole booze cruise for us which was our highlight of the trip. She triple checked to make sure we got the easiest transportation to the airport and made sure we were on time and got there safely. 10/10 recommend
Ryan Wolff
★★★★★
All staff was very sweet and took care of us really well. From the moment we arrived at the resort, staff member from Go Blue Tour immediately came up to our group and helped check us in. Told us where everything was, helped get us dinner reservations, and were always around to answer questions. They helped us organize a booze cruise with our package and it turned out to be the most fun part of our trip. Highly recommend this travel agency when booking your next trip
Travis Menke
★★★★★
Everyone was super helpful and super kind!
Jess Rose
★★★★★
Absolutely wonderful experience, Erin was more than helpful in getting us the best deal for our trip and made the whole payment and booking process stress free and easy. On sight, Go Blue has the best on sight staff, they are so friendly and truly want to make sure their guest have a great and safe time. 100/10 recommend using Go Blue Tours to book your next group trip. Shoutout to Lupita!
Halli Dare
★★★★★
Great experience!!
Trey Calderwood
★★★★★
I recently booked a spring break trip to Grand Oasis Cancun with Go Blue Tours and it was a fantastic experience. From start to finish, the trip was seamless and stress-free thanks to the incredible planning and organization provided by Go Blue Tours.One of the highlights of our trip was the Booze Cruise that was included in our package. It was an unforgettable experience cruising around the crystal-clear waters of the Caribbean all while enjoying unlimited drinks. The hotel pickup and drop off was extremely easy and the staff on the boat was fantastic.Aside from the Booze Cruise, the hotel accommodations were amazing and the staff was friendly and accommodating. The food was good and the atmosphere of the pool and cabanas during the day was exciting, providing a wide range of activities to suit all interests.Overall, I highly recommend booking your next vacation with Go Blue Tours. They go above and beyond to ensure that your trip is not only memorable, but also hassle-free. I will definitely be using their services again in the future.
Cam Gerrard
★★★★★
Planned a trip for me and 17 of my buddies to Cancún and I wouldn't have been able to do it without GoBlue's help (specifically Meghan). Couldn't have asked for more help. Also the workers down in Cancun were super helpful and made us feel very safe down there. They really cared about our safety and also having a good time. Definitely recommend GoBlue Tours (specifically Meghan again).
Ethan Wons
★★★★★
Very good and fast service!
Toby Barrett
★★★★★
Great service, great communication. Thanks for a good time!
Peter Orsak
★★★★★
Ruben is very nice. Great trip!